NEC Authorized Dealer and Reseller

As an Authorized NEC Dealer, TeleSolutions can support all of NEC's legacy telephone systems as well as provide a cost-effective migration path into the SV9100 VoIP platform or the Univerge SV8300 Series while preserving your original NEC investment. NEC has a new system SV9100, designed for the small business and medium-sized businesses that need a powerful VoIP system at a very competitive price!
Need information? Call us today. 801.268.1405
The SV9100 is a comprehensive integrated solution designed to meet the unique challenges of both business telephony applications and VoIP. This top performance communication server supports pure peer-to-peer IP telephony connectivity, advanced networking, traditional digital switching, or a combination - all from one solution! SV9100 provides the latest Voice over Internet Protocol (VoIP) technology and comprehensive desktop solutions to deliver superior performance, efficiency, flexibility, and reliability when and where you need it.
NEC oftentimes provide an additional 10% to 15% off if you are upgrading from a TIE, Nitsuko i-Series, Aspire, IPK, IPKII, UX5000, SV8100 and the SV8300 phone system to the SV9100. The promotions have been expanded to include, Mitel, Inter-Tel, and Nortel!
Salt Lake City's NEC Authorized Dealer.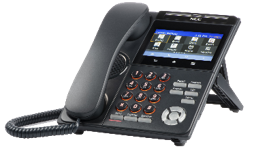 Supported NEC Systems
All TIE legacy systems
Nitsuko i-Series 28i, 124i, 384i and 704i
NEC Aspire S, M and XL
NEC UX5000, SV8100, Univerge SV8300 Series
NEC SV9100