Business Telephone Systems
TeleSolutions, LLC creates communications solutions, providing all the tools your company needs to succeed, whether it is VoIP Server-based and/or Hosted communications systems, UCaaS, CCaaS systems, wired and wireless business telephone systems, call center hardware and software, you need a business telephone solutions.  Plus we provide, fiber optic cabling and telephony gateways including Unified Communications and Voice over IP, Data networking, and structured cabling..  Hosted VoIP PBX telephone systems.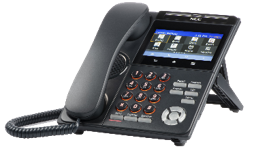 Voice
The fastest growing segments are small to medium sized businesses and TeleSolutions which understands the unique issues of economy and scale you face in implementing new technologies. As business becomes more competitive, you begin to rely more explicitly on communications to expand markets, achieve greater levels of customer service, and support new organizational infrastructures. Every solution we create is designed to exceed your need for greater functionality, flexibility, and performance from your communications system.  Want a simple low cost telephone system that you can add VoIP to it?  Or a Server based VoIP solution?  Maybe you need a Hosted VoIP solution.  NEC's   SV9100 and Univerge SV8100 systems are all of this and more.  Do you have a Nortel telephone system that you would like to get some more mileage out of?
Don't know what is best for your company?  We can help!   Call or text us 801.268.1405
Authorized Dealer and Reseller for NEC, and certified technicians on Nortel, as well as others.
Coronavirus Covid-19 Statement
TeleSolutions provides essential business services for the Critical Infrastructure Sector as defined by CISA (National Cybersecurity and Infrastructure Agency), specifically in the Information Technology, Communications and Defense Industrial Bases.
We are open and able to help with your communications infrastructure needs.  Do you need to work from home or change your current business system to fit the current demands we can be reached at 801-268-1405. or Info@telesolutions.us
Structured cabling is used for all voice, data, and video applications within a building. A building's structured cabling system is a permanent fixture and can be thought of as a utility. Structured cabling is Layer one, simply wiring, fiber, network cards, and anything else that is used to make two network devices communicate.  Network troubleshooting will often lead to a layer one issue. This type of problem is quite common and takes the longest to troubleshoot.
We are Structured Cabling (layer one) Cat6, Cat5e, Fiber, and voice cabling, experts.
Services